Chime Biologics Announced the Expansion of GMP Manufacturing Capacity with Construction of a Second GMP Facility (GMP-2)
The GMP-2 facility will include expanded drug substance capacity with 8 x 2000L GMP mammalian cell culture production lines
Lyophilization and PFS fill & finish drug product lines will add to Chime's integrated manufacturing capability
The expanded capacity and capability will increase flexibility to scale between early-stage and late-stage production
[August 4, 2021 GMT +8] – Chime Biologics ('Chime'), a world-class contract development and manufacturing organization (CDMO), announced the construction of GMP-2 facility.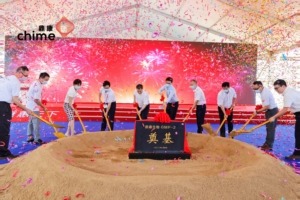 The GMP-2 expansion project will provide increased capacity of 8 x 2000L GMP mammalian cell culture together with Lyophilization and PFS fill & finish lines to fully support Chime's GMP-1 and GMP-2 production lines. The GMP-2 facility is expected to be ready for GMP manufacturing in end of 2022, then Chime's total production capacity will be around 28,000 liters. With this expansion, the MSAT and protein science labs are also upgraded and expanded, to better support process development, characterization and qualification, to deliver clinical and commercial projects compliant with global standards on time and within budget.
Andrew Ng, director of board of Chime Biologics, officials of Wuhan East Lake High-Tech Development zone and Hubei provincial FDA strategic clients and partners joined the groundbreaking and gave speeches.

Dr. John Zeng, CEO of Chime Biologics, said, "I'm very pleased Chime's GMP-2 expansion project has started today. The completion of the GMP-2 project will enhance Chime's capacity to deliver clinical and commercial drug substance and product for global supply. We look forward to the completion of the GMP-2 project and will continue to provide customers with high-quality and comprehensive CDMO services.
With the operation of the GMP-1 facility since 2013, Chime has 100% successfully delivered more than 30 projects, supplying to more than 20 countries. Most of the projects scale to 2000L GMP cell culture for production with matching scale downstream processing. Recent projects include a validated NDA submission to NMPA and anticipate pre-approval inspection later this year and a multi-country commercial supply project for a potential COVID-19 therapeutic antibody.
About Chime Biologics
Chime Biologics, a China-based, world-class Contract Development and Manufacturing Organization (CDMO), providing customer-centric and cost-effective services for timely premier-quality biopharmaceutical development and manufacturing. We provide one stop comprehensive solution supporting our customers from early-stage biopharmaceutical development through late-stage clinical and commercial manufacturing, catering to the evolving needs of the dynamic biopharmaceutical industry.
We are ISO 14001:2015 and ISO 45001:2018 certified. With our State-of-the-art facility and in-house world class expert teams, we are committed for excellence upholding highest degree of integrity. In the near future, CBL's total production capacity will exceed 140,000L.