Chime Biologics Announces Strategic Cooperation with Leads Biolabs and BeiGene to Advance LBL-007 mAb Development and Manufacturing Globally
Leads Biolabs and Chime Biologics initiate strategic cooperation to accelerate IND application and provide clinical trial materials in China.
BeiGene and Chime Biologics establish strategic cooperation to facilitate IND applications overseas and clinical trial materials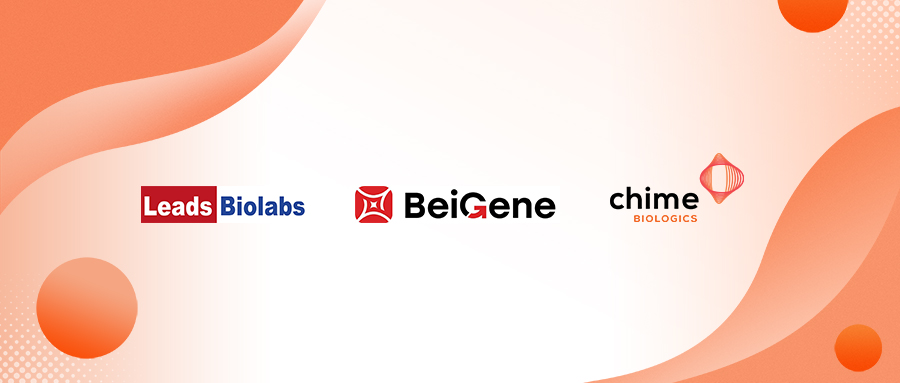 Chime Biologics, a leading CDMO that enables its partners' success in biologics, announced that it has established 3-way strategic cooperation with Leads Biolabs and BeiGene to accelerate LBL-007 mAb development and manufacturing for speedy clinical advancement.
LBL-007 is a novel antibody targeting the LAG-3 pathway developed independently by Leads Biolabs. The phase I clinical trial data of LBL-007 in patients with later-stage solid tumors have been announced at the 2021 annual meeting of the American Society of Clinical Oncology (ASCO).
Previously, Leads Biolabs and BeiGene reached an authorization and cooperation agreement. Leads Biolabs grants LBL-007 exclusive global development and production license to BeiGene, as well as a commercial manufacturing license outside China.

Leads Biolabs and Chime Biologics initiate strategic cooperation to accelerate IND application and provide clinical trial materials in China.
Leads Biolabs has entrusted Chime Biologics with the file supporting work related to the production of LBL-007 project and clinical trial materials in mainland China. Now, the project is progressing into clinical phase II stage. At 2023 ASCO conference in Chicago from June 2 to 6, Leads Biolabs presented a poster summarizing the latest clinical data research results on safety and efficacy of anti-LAG-3 (lymphocyte activating gene-3) antibody LBL-007 in the treatment of advanced or metastatic melanoma. This is an open-label, multicenter, dose-escalation or expansion Phase I clinical trial research conducted in China, focusing on safety, RP2D, pharmacokinetics and pharmacodynamics.

BeiGene and Chime Biologics establish strategic cooperation to facilitate IND applications overseas and clinical trial materials supply.
BeiGene is also entrusting Chime Biologics to provide support for clinical development and manufacturing of clinical trial materials in order to facilitate multiple clinical trials. The indications encompass colorectal cancer, non-small cell lung cancer, head and neck squamous cell carcinoma, as well as other solid tumors. Clinical trials have been conducted in numerous countries worldwide, including Australia and the United States.

The three parties have established a comprehensive strategic partnership based on the principle of "Complementary Advantages, Resource Sharing, Strong Alliance, and Win-win Cooperation". Through 3-way cooperation, multiple clinical studies are advancing rapidly based on the global development distribution of LBL-007. We hope anti-LAG-3 antibodies can bring good news to cancer patients as soon as possible.


A Trusted Partner in Biologics Commercial Manufacturing
Chime Biologics serves as a long-term partner to biopharmaceutical clients with sound solutions for manufacturing and more recently moved into late stage and commercial manufacturing. We support various stages of new drug registration and application, provide production service for preclinical, clinical and listed drugs, including non-GMP standard production and the first modular biopharmaceutical factory in the world which meets the global cGMP standards.


Dr. Kang Xiaoqiang, Founder, Chairman and CEO of Leads Biolabs, stated: "We are so pleased to cooperate with BeiGene,  a global leading enterprise in oncology field, and Chime Biologics with extensive antibody production  experience. LBL-007 is the first innovative antibody drug with global intellectual property which we developed independently. I believe that the development and commercialization of LBL-007 can be expedited through our triangular cooperation, so we can address unmet medical needs and bring hope to cancer patients."
Dr. Wang Lai, Global R&D Director of BeiGene, said: "The clinical candidate drug developed by Leads Biolabs has a broad prospect, not only enriching our tumor immunotherapy drug pipeline but also supporting us for global clinical development strategic priorities and development opportunities. Chime Biologics has advanced drug commercial manufacturing experience, a sound quality system and efficient production management, providing assurance of LBL-007 for global development. Although the cooperation is not too long, LBL-007 has launched nearly ten Phase I and II clinical trials worldwide in the last year, with indications covering colorectal cancer, non-small cell lung cancer, head and neck squamous cell cancer, melanoma and other solid tumor cancers. I believe that this cooperation will bring new opportunities for the medical community to further conquer cancer."
Dr. Wei Jianzhong, President of Chime Biologics, stated:" We are glad to be the partner of these two leading Biopharma enterprises to provide the IND filing support of LBL-007 project and clinical trial materials production. The three parties will work together to deepen cooperation and promote the clinical trial process of LBL-007 project. Chime Biologics has always focused on quality management and technological innovation. This cooperation project is a remarkable milestone of company's global development. We are very proud to be able to empower biopharma partners to bring more drugs to the market as soon as possible and benefit patients worldwide.
About LBL-007
LBL-007 is a fully humanized anti-LAG-3 (lymphocyte activating gene-3) monoclonal IgG4 antibody consisting of two IgG4 heavy chains and two κ light chains linked by disulfide bonds, with high affinity to human LAG-3, and exerts antitumor effects by blocking LAG-3 activation of immune function. In preclinical models, LBL-007 in combination with anti-programmed cell death protein 1 (PD-1) showed synergistic antitumor activity. Results from the phase I a study of LBL-007 monotherapy have been published in ASCO 2021 (Abstract 2523); preliminary safety and efficacy data for LBL-007 combined with toripalimab in patients with advanced melanoma (Part A) have been reported in ASCO 2022 (Abstract 9538/Poster 131), showing a favorable safety profile and better antitumor activity, particularly in anti PD-(L)1 naïve patients with acral melanoma. Several clinical studies of LBL-007 are currently in rapid progress based on global layout.


About Leads Biolabs
Nanjing Leads Biolabs Co.,Ltd. is a clinical-stage R&D biotech company founded in Nanjing by a team of senior U.S.-educated antibody drug developers. Since 2014, Leads Biolabs has been dedicated to the research and development of novel antibody drugs with independent intellectual property rights for the treatment of oncology and other major diseases, mainly focused on the unmet pharmaceutical needs, especially the problems and challenges in tumor immunotherapy areas. Leads Biolabs already have a rich R&D pipeline with more than twenty novel tumor immunotherapy antibody projects based on monoclonal antibody and bispecific antibody development technology platform. Leads Biolabs will continue to expand its innovation to provide patients with safe, effective, accessible and affordable new drugs to meet the unmet pharmaceutical needs. For more information, please visit: www.leadsbiolabs.com
 
About BeiGene
BeiGene is a global biotechnology company that is discovering and developing innovative oncology treatments that are more affordable and accessible to cancer patients worldwide. With a broad portfolio, we are expediting development of our diverse pipeline of novel therapeutics through our internal capabilities and collaborations. We are committed to radically improving access to medicines for far more patients who need them. Our growing global team of more than 9,400 colleagues spans five continents, with administrative offices in Beijing, China; Cambridge, U.S.; and Basel, Switzerland. To learn more about BeiGene, please visit www.beigene.com and follow us on Twitter at @BeiGeneGlobal.

About Chime Biologics
Chime Biologics is a leading CDMO with the world's first modular biopharmaceutical factory, KUBio. It empowers the entire biologics processes – from cell line development to commercial manufacturing. Chime Biologics provides one-stop CMC solutions to worldwide biomedical customers, relying on cell line development and advanced technology development from its Shanghai Innovation Center and proven success in IND-enabling through BLA filing at its Wuhan campus. We share a common goal to make cutting-edge biologics affordable and accessible to all patients globally, fulfilling its commitment to human health. For more information, please visit www.chimebiologics.com