Chime Biologics Enters into a Strategic Cooperation Agreement with Korea Kings Pharm to Accelerate the Biosimilar Launch
Chime Biologics has entered into a strategic collaboration with Kings Pharm for a biosimilar asset, providing cell line development, process development, global GMP manufacturing, commercialization and regulatory filing support. Chime will also supply the commercial production once the product successfully passed the clinical studies.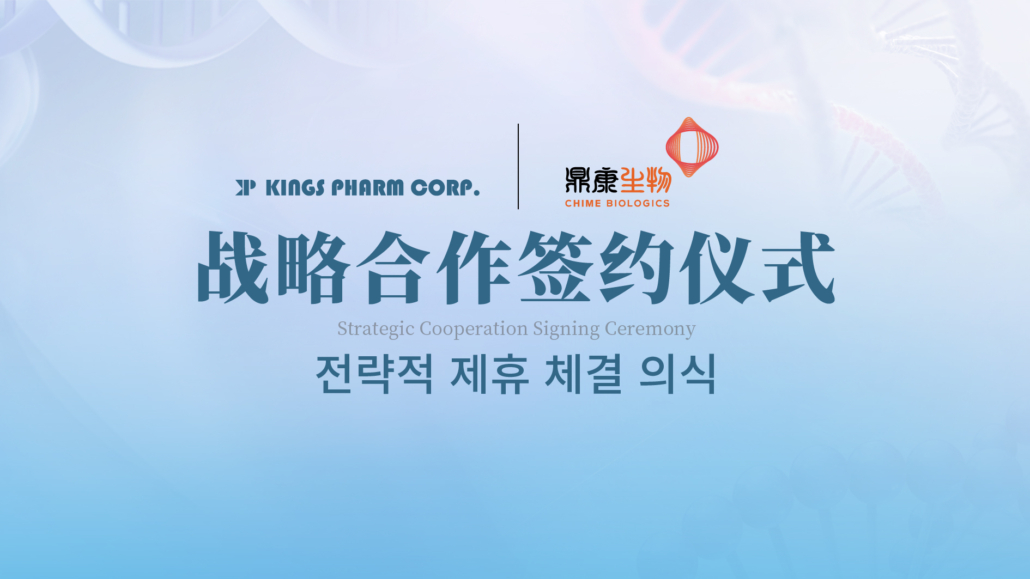 September 19, Wuhan, China – Chime Biologics, a leading CDMO that enables its partners' success in biologics, announced a strategic cooperation with Kings Pharm.
According to the agreement, Chime Biologics will leverage its rich experience in biosimilar projects to provide cell line development, early process development, global clinical and commercial manufacturing, and registration services to Kings Pharm. Chime Biologics will be the exclusive CDMO service provider and will help Kings Pharm to bring the asset to global markets.
The signing ceremony was accompanied by delegates of the Consulate General of the Republic of Korea in Wuhan, Foreign Affairs Office of Wuhan Municipal People's Government, Wuhan East Lake High-tech Development Zone, and Wuhan National Bio-Industry Base Construction Management Office as this agreement underlines the strong collaboration between both countries.
Jaehee Lee, Advisor of Kings Pharm, commented, "Kings Pharm is committed to developing new drugs for oncology and metabolic diseases for aging. We believe that life must be respected and that human life goes on. This anti-tumor biosimilar is the first collaboration project between Kings Pharm and Chime Biologics, and we are very pleased to enter into a strategic partnership with Chime for such an important project. Chime Biologics has a proven track record of quality systems with international quality standards, rich experience in biologics marketing and filing, and a flexible business model to ensure the global development and production of this project. We are willing to authorize the exclusive cooperation with Chime Biologics and look forward to further expanding the cooperation in the future for the benefit of patients."
Dr. Jimmy Wei, President of Chime Biologics, said, "We are pleased to establish a strong partnership with Kings Pharm to accelerate the development and commercialization of this anti-tumor biosimilar. The biosimilar program is Chime Bio's strength, our team has successful experience in developing several biosimilars and has a proprietary platform for high-expression cell line development, which allows us to provide low-cost biosimilar development services to clients all over the world. This collaboration is the beginning of our one-stop solution for biosimilars, we are proud to make every effort to support Kings Pharm to promote its biosimilars to market and increase the accessibility of biologics to patients globally."
Chime Biologics is launching a global one-stop solution for biosimilars. Clients start a project with a product idea, then Chime will leverage its rich experience in biosimilar development to support the client's biosimilar IND-filing, clinical sampling, commercial manufacturing and regulatory service.
About Kings Pharm Corp.
Kings Pharm was established in Korea in 2005 and has maintained many partners to date, and has continued to invest and cooperate with bio venture companies. Kings Pharm is interested in developing anticancer drugs and new drugs related to metabolic diseases in preparation for aging and is collaborating with hospital researchers, and plans to expand R&D and production scale in the near future.
About Chime Biologics
Chime Biologics is a leading CDMO that has introduced the first modular biopharmaceutical plant KUBio in the world to empower its partners' success in biologics in the whole process from cell line development to commercial manufacturing. Relying on cell line development and advanced technology development from our Shanghai Innovation Center and proven success in IND-enabling through BLA filing at its Wuhan plant, Chime Biologics is providing a one-stop CMC solution for biopharmaceutical customers around the world. We share a common goal to make cutting-edge biomedicines affordable and accessible to all patients globally, fulfilling its commitment to human health. For more information, please visit www.chimebiologics.com.