Chime Biologics Listed in "China's Future Unicorn Enterprises in 2022"
Chime Biologics was listed in China's Future Unicorn Enterprises in 2022, released by Great Wall Strategy Consultants, with other 12 companies from the Optics Valley of China for the innovation, quality-oriented, quick response to market and customer needs in the past many years.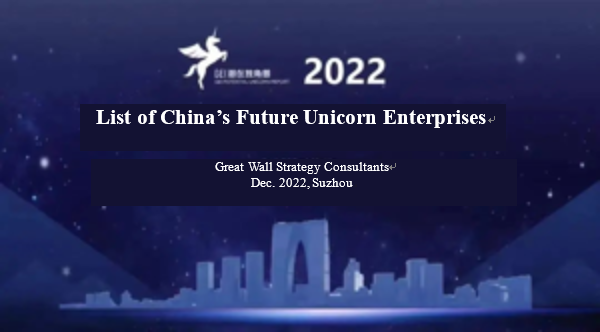 According to data released by the Great Wall Enterprise Institute, China's unicorn companies have strong tech features, with high-tech unicorns covering more than 60 percent (216 in number) of the nation's total, and the proportion of such companies among new unicorns exceeding 80 percent.
The definition of a unicorn enterprise is a company that has been set up for less than a decade, valued at more than $1 billion but not publicly listed. And, have made remarkable achievements in new technologies, application of new scenarios, new business forms and opening up new tracks. However, as the backup of unicorn enterprises, the future unicorn enterprises are the pioneers of new tracks and also the important forces for localities to vigorously promote the construction of industrial innovation clusters through the opportunities of digital economy.
According to the Research Report on China's Future Unicorn Enterprises and China's Unicorn Enterprises, there were 316 unicorns in China in 2021 with a total valuation of over $1.1 trillion. Chime Biologics is one of the 6 companies from Biolake in Wuhan and there are total 13 enterprises in Optical Valley had been selected this time.
Listed in "China's Future Unicorn" is a great recognition and encouragement for Chime Biologics in providing high quality, efficient and cost-effective CDMO services for customers around the world. Chime Biologics will continue to make advanced biologics more accessible to patients worldwide in future through technology and manufacturing innovations, aiming to promote human health.
About Chime Biologics
Chime Biologics is a leading CDMO that has introduced the first modular biopharmaceutical plant KUBio in the world to empower its partners' success in biologics in the whole process from cell line development to commercial manufacturing. Relying on cell line development and advanced technology development from our Shanghai Innovation Center and proven success in IND-enabling through BLA filing at its Wuhan plant, Chime Biologics is providing a one-stop CMC solution for biopharmaceutical customers around the world. We share a common goal to make cutting-edge biomedicines affordable and accessible to all patients globally, fulfilling its commitment to human health.